Easy Delicious, South Australian Prawns & Scallop Italian Thai
Prawn & Scallop Italian Thai Olio – By Felicia Tan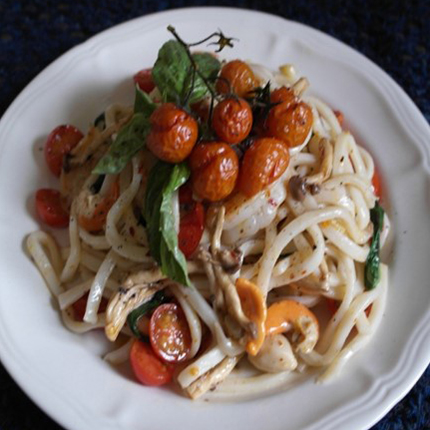 Ingredients:
60 g Fresh Banana Prawns, large size.
50 g Fresh Scallops, washed and soaked in milk.
8 Cherry Tomatoes.
7 pips Fresh Garlic.
2 sprigs Thai Basil.
2 sprigs Sweet Basil.
50 g Shemeji Mushrooms. Brown capped Enoki is an alternative.
5 tbsp. Virgin Olive Oil.
½ tbsp. Chili Flakes (mild – medium heat)
400 g TAINGS Udon Noodles.
Salt and freshly grounded Black Pepper to taste.


Instructions – To Be Done Before Starting To Cook.
Prepare the prawns by peeling off the shell, leaving the tails intact. Divide them, and keep aside. Pick and wash the Thai & Sweet Basil leaves, leaving one young shoot of the Sweet Basil for decoration. Mushrooms need to be detached from the base, loosened and given a quick wash.
Method
Heat 2 tablespoons of the olive oil on medium, and fry the prawns until just cooked. Drain the scallops from the milk, fry until just cooked, put aside. Let the juices come out. Heat the rest of the olive oil, fry the garlic slices, until golden. Take them out of the pan, fry the tomatoes, the mushrooms, the Thai and Sweet basil lightly; put in the loosened noodles, the prawns and the scallops, heat through the lot. Lastly sprinkle the chili flakes, season to taste with the salt and pepper, and scatter the garlic slices. Transfer to a serving dish, decorate with the basil shoots. Drip left over oil. Enjoy!