A Diverse Range Of Fresh Noodles From Our South Australian Team
Looking for fresh, delicious noodles at fantastic, wholesale prices? At TAINGS, we have a wholesome and diverse range of fresh noodles, created and packaged daily by our expert team, located in South Australia.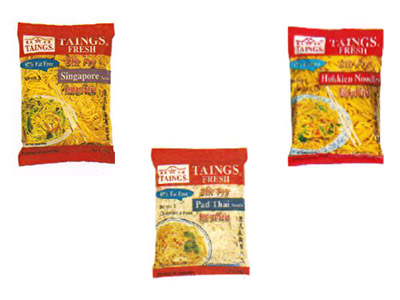 Our fresh noodle range includes:
Thick and Thin Hokkien Noodles
Singapore Noodles
White Hokkien Noodles
Pad Thai Noodles
Soba and Udon Noodles
Buckwheat Noodles
Wholegrain Noodles
When you order from our fresh noodle range, you can be assured that these fresh, delicious and authentic noodles have been made with only the most premium of ingredients, in a safe and hygienic factory.
Fresh Noodles, Made To Order
We can also make to order according to specification, including all kinds of pastas. We can manufacture from 150gm packs and upwards. Call our expert team today and inquire about how you can order the finest in tailor made, custom noodles, made just how you'd like them!
Why Fresh Noodles?
Proudly Australian Made, our noodles are all made with the highest grade Australian Wheat Flour. It is neutral flavoured, with a good bite that is chewy, soft but firm. It's also 97% Fat Free! Versatile and easily used in stir fries, soups and salads or as a replacement for pasta our noodles are universal in all kinds of cooking. Our noodles are pasteurized
For a convenience of keeping, and can keep frozen (-18˚C) for 3 months, and in the chiller (4˚C) for up to 45 days. Made with no preservatives, no artificial colours, and no MSG. Our fresh noodles can be used as a healthy component for a staple filler.